Race Relations: Ae Fond Kiss (2004)
The Race Relation feature continues with Dawn Dabell looking Ae Fond Kiss starring Atta Yaqub and Eva Birthistle.
Ae Fond Kiss (2004) is an interesting film as it not only looks at the effects of two different races coming together, it also explores the effects different religious backgrounds can have on a couple's relationship. The film tackles a number of cultural issues including arranged marriage, respect for one's elders and freedom of choice. The clash of ideals is nicely handled from the point of view of two generations of a Muslim family and a Catholic teacher.
Casim Khan (Atta Yaqub), a Scottish Muslim living in Glasgow and working as a DJ, is approaching his arranged marriage to his cousin Jasmine. His parents are Pakistani Muslim immigrants who also have two daughters: Tahara (Shabana Akhtar Baksh) who is younger than Casim, and Rukhsana (Ghizala Avan) who is older. By chance, Casim meets a part-time music teacher named Roisin (Eva Birthistle), who works at Tahara's school. They quickly discover they have feelings for each other and enter into a relationship. Their union causes incredible strain and tension, with Casim struggling to make his family accept his choice, while Roisin is frustrated by his inability to take control of his own life.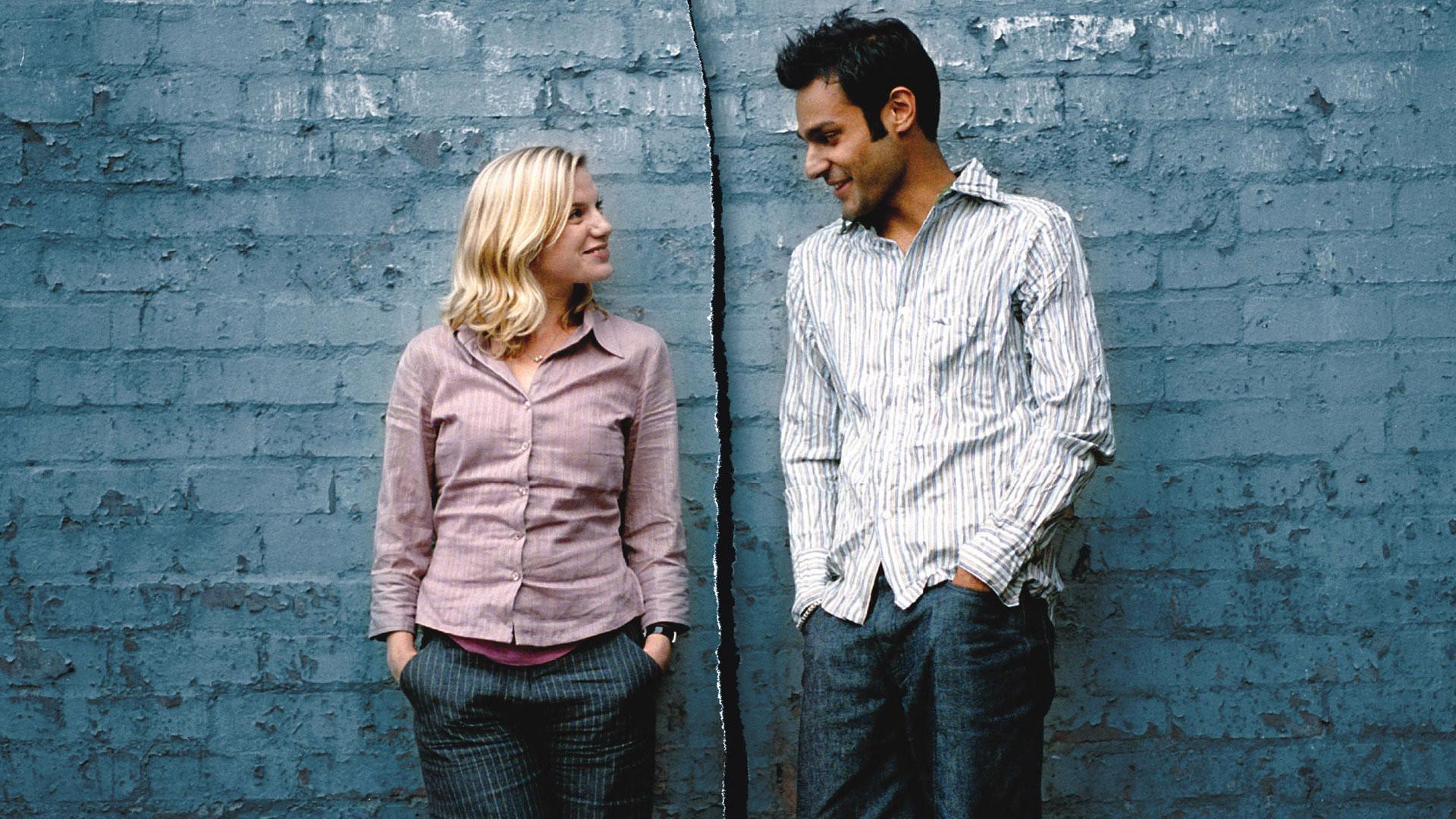 The film takes its name from Robert Burns' love poem, "Ae Fond Kiss And Then We Sever", more commonly shortened to simply Ae Fond Kiss… He wrote this after his final meeting with Agnes Maclehose, a woman with whom he developed a friendship while she was estranged from her husband. The use of this title is perfectly fitting for the dilemma facing the two lovers. Do they stay together and inflict great hurt on those around them? Or do they sever their ties and surrender the love they have known?
The theme of arranged marriages in Muslim families is central to the plot. We have two siblings with very different feelings towards the tradition. Rukhsana is overjoyed with her future match, developing feelings for him in the short time they spend together and feeling incredibly happy with what her future holds. The other perspective is Casim's, who previously freely agreed to marry his first cousin but, as things progress, learns that he doesn't have feelings for her and wants to be with someone he loves rather than settling for a pre-arranged, loveless relationship.
This isn't the only example of rebelling against tradition within the Khan family. Tahara is constantly struggling against tradition in order to have some independence and not be stereotyped as a Pakistani-Muslim. From the very start of the film, she stands up to those around her, letting them know she is much more than this. She classes herself a Western Muslim and wants to be treated the same as her peers. As well as constantly battling those around her, she wants her family to stop forcing tradition on her and let her live her life more akin to her school friends.
Bakhsh puts in a feisty performance and handles all her scenes in a way which makes the viewer sympathetic with her plight. We want her to stand up to her parents and be able to go to a university of her own choice and live her own life. But we also understand her parents are only following their own code and traditions; they are not trying to be cruel by holding her back, they are simply acting according to the way things are done in their own culture. This is merely the way of the world as they understand it. Interestingly, throughout the film Casim's mother never speaks in English, although her husband and children are fluent in the language.
Director Ken Loach does a wonderful job with his lead characters. Although Casim and Roisin are very much in love and want to make their relationship work, both fail to put themselves in the other's shoes. Casim is constantly using his family's strong cultural beliefs as his main excuse for not standing up and telling the world he loves Roisin. Conversely, Roisin expects Casim to disgrace his family's honour and take a risk on their relationship. She also puts emotional demands on him from time to time, like demanding that he drop a massive business meeting to stay home comforting her after she loses her job.
The ending, although not 100% happy, is realistic and fairly optimistic. As explained throughout the film, Casim's family simply cannot turn their back on their own deep-rooted beliefs; they can't accept the thought of him living with a white woman and no-one in their community accepts it either. Casim's actions cause disgrace to the entire family and mean his father loses the respect of other elders in the community. The fallout extends even further, with Rukhsana's engagement being withdrawn by her fiancé's family.
Roisin experiences a similar backlash within her own Catholic community at the hands of both her priest and her employer. As a Catholic woman who no longer lives with her husband, her relationship with Casim is seen as a sin. The situation throws up difficult questions about marriage and children. The Catholic Church demands they marry as Catholics, and that they raise any off-spring they may have as Catholic children; something which Roisin knows Casim will never be able to do. Asking someone to give up their religion and beliefs and convert their faith to yours is a huge ask, no matter how much you love them. Loach handles these aspects of the film superbly.
The audience doesn't sympathise with one character's plight over the others; we feel equally for Casim and Roisin and hope there can be a happy ending. It is naive to hope everyone will be all-singing and all-dancing by the end of the film; this is not a sentimental film with a fake happy ending for all concerned. In situations like this, someone will be hurt by the choices made and the paths chosen – this is an inevitable truth.
It won't come as a surprise to learn the film was nominated for, and won, a number of awards. It's a well-made, interesting and thoroughly absorbing look at two people from very different cultures trying to overcome seemingly insurmountable obstacles in order to be together.
Highly recommended.
FMV Rating: ****